The one-time leader in the mobile phone industry, Nokia will be acquired by Microsoft, thus marking an important moment in the history of the mobile industry.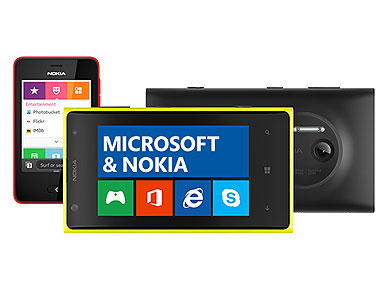 The Boards of Directors of Microsoft Corporation and Nokia Corporation have officially announced that Microsoft will purchase substantially all of Nokia's Devices & Services business, license Nokia's patents, and license and use Nokia's mapping services. As per the deal, Microsoft will pay EUR 3.79 billion for substantially all of Nokia's Devices & Services business and EUR 1.65 billion to license Nokia's patents, thus a total of EUR 5.44 billion in cash for the entire transaction. The acquisition, which is awaiting approval by Nokia's shareholders, regulatory approvals and other closing conditions, is expected to close in the first quarter of 2014.
As part of the acquisition, besides Nokia's Devices and Services business Microsoft will pull in nearly 32000 Nokia employees, including 4,700 people in Finland and 18,300 employees directly involved in manufacturing, assembly and packaging of products worldwide. Nokia expects that Stephen Elop, Jo Harlow, Juha Putkiranta, Timo Toikkanen, and Chris Weber would be placed in Microsoft at strategic positions. At the same time, under the agreement, Nokia would hand-over its long-term patent licensing agreement with Qualcomm, besides its other licensing agreements. The operations acquired currently accounted for nearly 50 percent of Nokia's net sales for the full year 2012.
While Microsoft would acquire the Lumia and Asha brand, it would license the Nokia brand for use with current Nokia mobile phone products. Nokia, however will continue to own and manage the Nokia brand. As far as Nokia's patents are concerned, the company would retain its patent portfolio and will grant Microsoft a 10-year non-exclusive license to its patents at the time of the closing in return for rights to use Microsoft patents in its HERE services.
Speaking about the acquisition, Steve Ballmer, Microsoft chief executive officer, said, "It's a bold step into the future – a win-win for employees, shareholders and consumers of both companies. Bringing these great teams together will accelerate Microsoft's share and profits in phones, and strengthen the overall opportunities for both Microsoft and our partners across our entire family of devices and services. In addition to their innovation and strength in phones at all price points, Nokia brings proven capability and talent in critical areas such as hardware design and engineering, supply chain and manufacturing management, and hardware sales, marketing and distribution."
Speaking for Nokia, Stephen Elop, who following today's announcement is stepping aside as Nokia President and CEO, said, "Building on our successful partnership, we can now bring together the best of Microsoft's software engineering with the best of Nokia's product engineering, award-winning design, and global sales, marketing and manufacturing. With this combination of talented people, we have the opportunity to accelerate the current momentum and cutting-edge innovation of both our smart devices and mobile phone products."