Many companies have launched the Lite versions of their apps until now. These are basically stripped down versions of their main apps and are intended to be used on slower networks with 2G speeds. Well, Microsoft too has launched the Lite version of Skype called Skype Lite especially for the Indian market. The company made this announcement at an event held in Mumbai.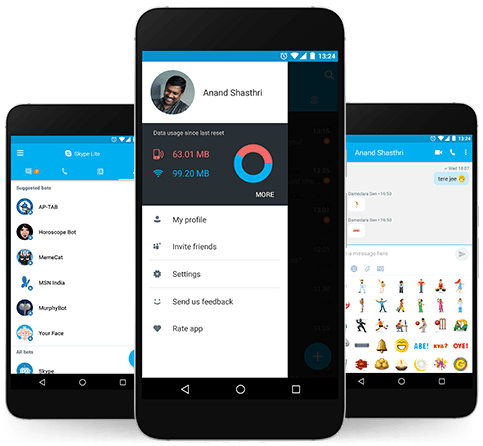 As the name suggests, the Skype Lite is the toned down version of the main Skye app and lets you make video and voice calls to your friends and family. The app is around 15 MB in size and is suitable for Indian users who often have to depend on unreliable Internet.
The Skype Lite app is built in India and comes with features like SMS filtering, Skype bots, mobile data and Wi-Fi usage monitoring. The app also consumes less data to transmit and receive information and compresses files before sending them to the receiver, thereby making it faster and light on resources. This also makes it suitable for usage on older devices.
"Skype Lite is designed to deliver a great Skype performance in challenging network conditions, use less data, less power and enable more users to take advantage of free Skype to Skype calls. As of today, Android users in India are able to download Skype Lite via the Google Play Store, free of charge. It is available in seven local languages: Gujarati, Bengali, Hindi, Marathi, Tamil, Telugu and Urdu." said Microsoft in a blog post.
There are also plans to integrate this app with the Aadhaar system making it much easier to identify callers and avoid spam. "Looking ahead, Skype plans to bring Aadhaar integration to the app by June 2017 which will enable Skype users to verify the identity of unknown callers in a variety of situations where identification verification is required, including job interviews, goods and property sale." the company further stated.
As of now, Skype Lite is only available in India, but, it might be availed in other developing countries soon.
Download Link: Skype Lite