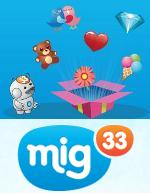 mig33, the mobile community, today announced that its members purchased more than 40 million virtual gifts in 2010 which resulted in massive increase in sales, between July to December, in several countries including India. Overall, virtual gift sales at mig33 grew sharply over the course of the year.  During Q1, sales averaged just over 2 million per month; by Q4, that figure had grown to well over 4 million.
"Virtual gifts were a focal point of mig33's development efforts around social entertainment in 2010, and our efforts there were well-rewarded," said CEO Steven Goh.  "We continue to customize our offerings, developing to local cultures and tastes, and view gifts as one part of a whole network of entertainment and communications services.  Those are the things that set mig33 apart as we seek to become the QQ for the rest of the mobile-first world."
Mohit Gundecha, Director of Business Development and Head of India Operations added, "India has emerged as a key market for mig33. Sales of virtual gifts in India doubled during the period and the user base spread to 100 cities. mig33's fast paced growth in India can be attributed to the emergence of a loyal user base, micro transactions enablement and fast paced mobile penetration coupled with low cost GPRS plans."
I never bought a virtual gift or received any virtual gift. Personally don't like this concept also, but these impressive figures from mig33 made me think again that are virtual gifts  really worth buying. Let us know what's your take.