Recently we saw a Google Executive showing off the much awaited Moto X smartphone. While it is said that the device may not have any end hardware, it seems like this will be compromised with some quality features.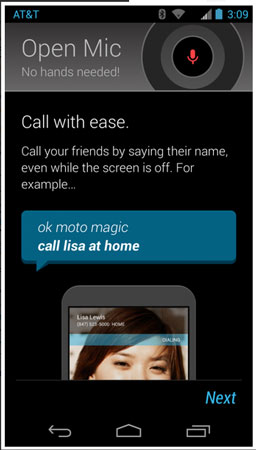 According to reports, the voice commands feature, which was seen at this year's Google I/O Developer Conference, will be seen on the Moto X. The hands-free voice command feature will enable the device to listen at all times after it is activated by using the phrase, "Ok Google Now". The device will respond to any Google Now command or search without you having to touch the device. But it's still unknown what the company will do to prevent a quick battery drain due to the continuous listening feature.
While Motorola has done away with notifications LEDs on the Moto X, notifications will now show as a faint, flickering image on your device screen. Also there seem to be a lot of new and unique features for the device camera. The Moto X camera app can be launched by twisting your hand back-and-forth. You can immediately take a photo by tapping anywhere on the screen. Also you can take multiple shots in burst mode by holding your finger on the screen. But this would cut out the tap to focus functionality.