With the holiday season here, Motorola is providing tempting offers on the popular Moto series smartphones.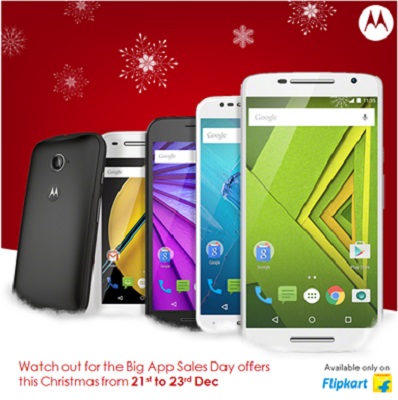 Motorola has partnered with Flipkart for the Big App Sales Day to offer discounts and other schemes on purchase of the Moto series smartphones. The company is offering 10 percent cashback on all Motorola devices on transactions made on CitiBank and Standard Chartered. It is also providing an exchange offer on the Moto X Play, Moto X Style and Moto G 3rd gen. the offers are applicable on the purchases made on the Flipkart app from December 21 – 23.
As part of the Big App Sales Day, Motorola is offering a Rs. 1000 discount on the Moto E 2nd gen 3G and 4G variants, with the handset now priced at Rs. 4999 and Rs. 5999 respectively. There is also a Rs. 1500 discount on the Moto G 3rd gen, with the handset now available for Rs. Rs. 10499. Similarly, the Moto X Play and the Moto X Style, which were launched at Rs. 18499 and Rs. 29999 respectively, are now available for Rs. 16999 and Rs. 26999 respectively.