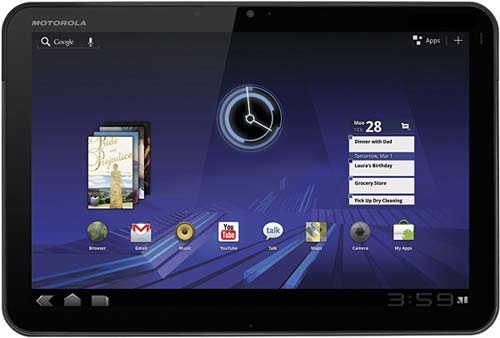 Motorola's offering in the tablet market is finally in here. The Motorola XOOM tablet has been officially launched in India which include both the 3G+Wi-Fi and the Wi-Fi only variants.
The Android 3.0 Honeycomb tablet packs in some nice hardware including a 1GHz dual-core processor, 1 GB of RAM, front-facing 2MP and rear-facing 5MP cameras, 10.1 inch touch screen display with a 1280×800 resolution, 3.5 mm, micro USB 2.0, Bluetooth, Wi-Fi and 32GB onboard memory.
The device is capable of playing 1080p full HD videos and can record 720p videos. The tablet also has built in Adobe Flash Player, gyroscope, barometer, e-compass, accelerometer and adaptive lighting.
"Motorola XOOM is redefining the tablet experience by pre-empting the future mobile experience today," said Rajan Chawla, Mobile Devices business country head for Sales and Operations, India and South West Asia, Motorola Mobility. "Designed from the ground up with the user in mind, it offers productivity while on the go and, provides more ways to have fun and connect with friends. Whether surfing the Web, watching the latest hit movie as it was intended or video-chatting with friends, Motorola XOOM will delight customers with its ease of use, speed and vivid graphics. Motorola XOOM is everything that a tablet should be!"
Motorola XOOM is available in two variants in India—Wi-Fi and 3G version, at select outlets in select cities in the country. The Best Buy for the Motorola XOOM Wi-Fi version is Rs 32,990 (MRP: Rs 34,490) and the Best Buy for the 3G version is Rs 39,990 (MRP: Rs 41,490).