MTNL (Delhi) launches New Trump Vidyarthi Plan With Unlimited Free Call and SMS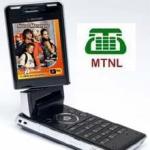 MTNL (Delhi) today announced the launch of New Trump Vidyarthi Plan with Free 3G service for its GSM 2G and 3G mobile service users. Subscribers of new Vidyarthi plan can enjoy Unlimited Free Local calls and SMS within MTNL Network (Mobile/Landline/CDMA) while local calls to all other network will be charged at 50p/minute (earlier it was Re.1). All STD calls will cost 75p/minute. All customers can use free 3G services with this plan. Local Video calls to MTNL Network will be charged at 20paisa/Minute while STD Video calls will cost 75paisa/Minute.

To avail the New Trump Vidyarthi Plan, existing MTNL Trump prepaid 2G and 3G customers can recharge with RC310 which comes at Rs.310 with talk time worth Rs.106, Free 100 local video calls and 100 MB GPRS/3G Data usage. The plan will be valid for 30 days from the date of activations. New customer can buy this plan with Trump Vidyarthi SIM kit at Rs.350.

New Trump Vidyarthi Plan with 3G in Details :
MRP

Rs.310

Talk Time

Rs.106

Validity

30 days

Free

-100 Video Local calls

-100 MB Data Usage

(2G GPRS and 3G/3.5G)

Local call to MTNL Network

(Mobile/Landline/CDMA)

Unlimited FREE (24×7)

Local call to all other network

50 paisa /Minute

STD Calls

75 paisa /Minite

Video call

Local MTNL N/W-20p Local Other N/W-50p

STD-75p

SMS

Local-To MTNL Network Unlimited FREE

(24×7)

Local SMS toOther N/W-25 paisa

National SMS-50 paisa

International SMS-Rs.2.50

Customer Care

1503 / 9868112345