MTNL regularises FnF plan for all users in Delhi

MTNL, in an effort to provide better service at minimal rates, has announced the regularisation of Family and Friends Plan for its users in Delhi. Now MTNL users can avail this plan by paying a monthly subscription charge of Rs. 50 and choose 5 MTNL basic number, Garuda or mobile number and make calls to their loved ones at just 10p/min for one month. Numbers under FnF may be added or modified and Rs. 10/- will be charged for per addition or modification beyond 5 in a month. The Friends and Family plan will be applicable to customers of all plans.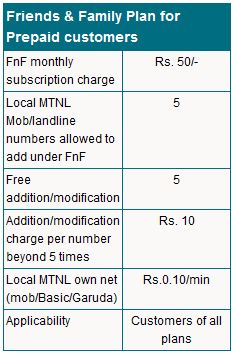 This Family and Friends plan can be availed by all users from 11.11.2011.