MTS brings world's first CDMA EV-DO Rev.B Phase II network to India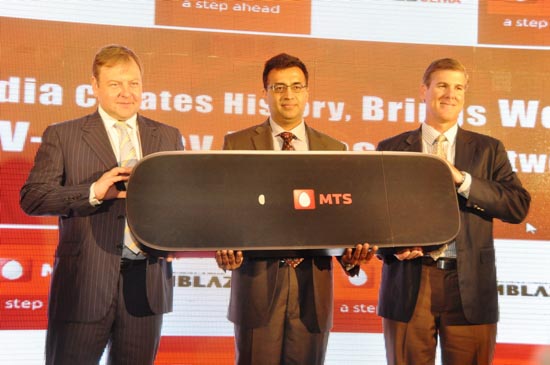 MTS India has created history by introducing the world's first CDMA EV-DO Rev.B Phase II network to India. As a part of their first phase, the company will be launching the advanced Rev.B Phase II network in Jaipur followed by top metros and other cities across India.
 To launch the new network, MTS India has introduced MBlaze Ultra which is a special dongle providing data download speeds of 9.8 megabytes per second. The launch event was organized in Delhi in presence of James Person, Chief Operating Officer – CDMA Development Group (CDG), Dr Avneesh Agrawal, President – Qualcomm India & South Asia and Vsevolod Rozanov President & CEO MTS India.
According to Vsevolod Rozanov, President & Chief Executive Officer, MTS India "MTS India has been credited for several industry firsts that has led us to stay a step ahead in terms of innovation. Adding to the list, I feel extremely proud to announce the coming in of the world's first CDMA EV-DO Rev.B Phase II network to India. This announcement is yet another testament of our commitment to provide the best in class products & services to our customers. This historic launch will redefine the way customers experience mobile broadband as we roll out MBlaze Ultra across India. I am confident all our customers will cherish the MBlaze Ultra experience".
The commercial use of EV-DO Rev.B technology will greatly enhance the mobile broadband experience of MBlaze Ultra users. Compared to EV-DO Rev.B Phase I, the Phase II technology can further enhance the BTS cell capacity, spectrum efficiency and peak rate, achieving high speed rate as high as 4.9 Mbps in single frequency carrier and 9.8 Mbps in two frequency carrier bundle.  
CDMA EV-DO Rev.B Phase-I network is present in several countries across the world including Japan, Norway, Indonesia, Sweden, South Korea and Ukraine among others. However, MTS India is credited to be the first telecom company in the world to commercially launch the CDMA EV-DO Rev.B Phase II network.
MBlaze Ultra
MBlaze Ultra enables customers to have a seamless, buffer free video watching experience. To get an MBlaze connection, customers can choose from the following two options:
The Free Device Option: Customers just need to pay Rs. 4599 to get an MBlaze Ultra dongle for free. Additionally, they will get 1 GB data usage per month for six months.
Extra Usage Option: Customers can purchase the MBlaze Ultra device for just Rs. 2499. Monthly rental plans have been made available starting at Rs. 629. As an introductory offer, all customers purchasing MBlaze Ultra in the first month of launch will get 50 percent extra usage for lifetime.
MTS TV
Using MBlaze Ultra dongles, customers can enjoy video streaming, High quality audio/video download and live play back.

Customers can also watch LIVE TV and on demand Video Channels. The customers will get access to over 100 Live TV and Video on Demand to a range of News, Entertainment, Sports and Regional channels.