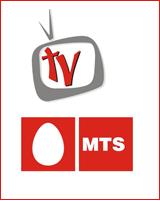 MTS India, the CDMA mobile services of of Sistema Shyam TeleServices Ltd. has announced the launch of MTS TV for MBlaze customers  in association with Apalya Technologies .All MBlaze subscribers can now access more than 60 Live and Video On Demand (VOD) channels from news, entertainment, sports, kids, movies and regional language category.



The service is available at no extra charges, except the standard data access charges as per the user's data plan. The customer just needs to download free MTS TV application from the MTS website and switch to selection of the favorite channel for viewing.
The service uses High Speed Broadband platform and is available in all 57 cities of MBlaze presence. At present 60 channels are available and very soon other on demand channels and Live Cricket updates will be available on MTS TV.At present MTS Mblaze subscriber can watch 60+ channels from all categories like News, Entertainment, Sports, Kids, and Movies. All popular TV channels  like AajTak, NDTV, ETV, Zoom etc.
Speaking on the launchof MTS TV services, Mr. Leonid Musatov, Chief Marketing Officer, SSTL, said,
Increasingly, new forms of content are making their way onto mobile devices – music, in particular, is already booming – and the latest buzz is about television. MTS TV is yet another feather in our cap to offer the best of service to our valued customers. As an emerging industry, mobile TV will require a willingness of operators, regulators, broadcasters and device suppliers to strike new deals. Consumer reaction and usage patterns will help the broadcast and mobile industries understand what content viewers want to see on this exciting new technology."
The service prohibits users to copy, record and repurposing of any content being streamed. MTS TV uses Windows OS and MAC OS and does not require any other software. The service is also available on roaming with standard data roaming charges in all cities of MBlaze presence.