MTS MBlaze Power Wi-Fi with battery bank and Wi-Fi internet access launched
With the demand for constant internet access on the move, MTS has launched the MTS MBlaze Power Wi-Fi targeted towards the younger internet-dependent generation.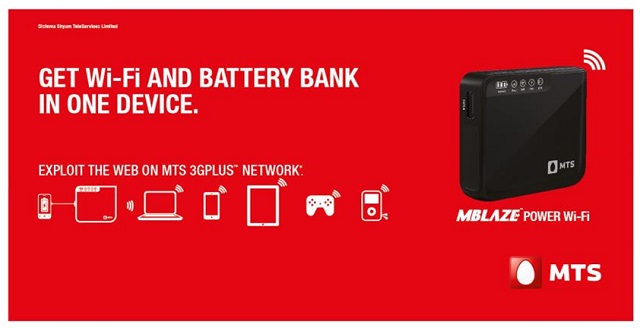 Sistema Shyam TeleServices Limited (SSTL), which operates in India as MTS, has announced the launch of the MTS MBlaze Power Wi-Fi, which is a one of its kind integrated device that offers high-speed Wi-Fi along with charging options for devices.
The MTS MBlaze Power Wi-Fi has an inbuilt 5200 mAh battery which can ideally charge a smartphone up to three times on a single charge. Similarly the device also provides Wi-Fi connectivity with an option to connect up to 6 devices simultaneously. Further users connected over the Wi-Fi network can share media like documents, songs, videos and pictures using the device.
The MTS MBlaze Power Wi-Fi operates on the MTS 3GPlus telecom network thus assuring high speed internet services. The device is available with prepaid and post-paid plans. The pre-paid plan priced at Rs. 3499 offers users 10 GB of bundled data usage for 30 days with an additional 5 GB exclusively for YouTube. Similarly, post-paid users can avail these benefits for Rs. 2999, based on the monthly plans.
Speaking about the MTS MBlaze Power Wi-Fi, Leonid Musatov, Chief Marketing & Sales officer – MTS India, said, "As Smartphone and Tablet users, we yearn for constant internet connectivity and long battery life of devices. In MBlaze Power Wi-Fi we have launched a unique product that takes care of these fundamentals while using smart- devices. With a 5200 mAh battery bank that can fully charge a Smartphone up to 3 times and the capacity to provide Hi-Speed internet to 6 devices simultaneously, MBlaze Power Wi-Fi is a must-have for youngsters and office goers."