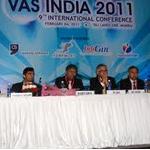 With new revenue stream generated, the MVAS sector is set to touch Rs, 48,000 crore by 2015, cited some of the leading telecom operators and technology organisations congregated today at 9th VAS INDIA 2011 international conference held at Taj Lands End, Mumbai, organized by Bharat Exhibitions.
The conference kick-started with the launch of the VAS portal 'Insight VAS' and was inaugurated by Mr. Prashant Gokarn, Head of 3G, Reliance Communciations. Sharing their perspective on the MVAS landscape in 3G enabled India, the keynote speakers brought to light some of the issues and opportunities hidden in this game.
Commenting on the advertising perspective in MVAS Industry, Mr. Shashi Sinha, CEO, Loadestar said, "With the advent of 3G, advertising potential is big. But the trick is to personalise the content that is being dished out. More competition is sure to drive down prices but the need of the hour is not to be restrictive but have an aggregate. Advertising and content is surely set to integrate from 3 to 5 years from now."
Mr. Kunal Bajaj, Managing Director, Analysys Mason went on to add, "There are three focus areas, which are enhancing user experience, launch of new services and service building wherein operators can provided end to end solutions for the consumers. Slowly but steadily, operators will have to overcome pricing issues and work towards network optimization."
Mr. NK Yadav, Principal General Manager – VAS, BSNL further cited, "The switch over from 2G and 3G needs to be taken care of. The customer experience cannot be spoilt on any cost. BSNL has been an early starter and the pick up is just getting better and better. While last year we had 1 million customers, today the figures are around 2.5 million subscribers. Data usage has increased 6 times and addition of post paid customers have increased since 3G. Broadly, the focus can be targeted at two categories, one being the network related issue and the other being handset related issues. From the consumer side, the active users are currently only 10%. With more awareness and consumer education, the usage will significantly grow."
Entertainment which has always gripped the nation through the years and emerging technologies, will play a major role in MVAS as well. Mr Jai Maroo, Director, Shemaroo Entertainment said, "This is an exciting time for the content industry. There is a sheer variety of content to share beyond Bollywood and celebritites too. We ourselves serve around 27 languages and the target is to go for more than 40 languages. Truly there has been a lot of hype, but I think we are still not there. Our eco-system is not yet ready. But assuming we ready the matrix soon, what will drive the market is simplicity of access and navigation, relevant and improved content and consumer education."
Shri Peeyush Agarwal, Chief General Manager (Wireless Services), MTNL shared informative statistics with the guests and brought out different elements that can benefit the people through VAS services generated with 3G. "India is uniquely positioned, M-Banking and  M-Retail will be great revenue boosters. Through M-banking, different services of banking can be done on the mobile, almost negating the requirement of going to a physical bank. M-Retail will equip consumers and vendors to buy and sell more easily. Such innovative services will be a great boon to the people."
While its not just about the operator services, the devices also play a big role. Mr. Sunzay Passari, Executive Vice President- VAS & Devices, Essar Telecom Business Group elaborated, " The capability of a device cannot be ignored and the capabilities of 3G and 4G is hugely different. Computing network is progressive and essentially we need data hungry devices. Infact mobile is just one of the devices. There is little difference between what a mobile, tablet, notepad, PC can do. It is a challenge for the operators and service providers to provide content to cater their respective markets.
The shift in dominance of players have also changed, especially in the past year. Many home grown companies have eaten a huge share of players like Nokia and Motorola. But we are in an interesting era, growth of devices and services alike will boost the industry."
Lastly, Shri TR Dua, Principal Advisor, Cellular Operators Association of India emphasised, "Telecom industry has grown at a time of global economic slowdown. This hints at unbounded success for the sector. Further with inclusive growth, differentiation and delivering customer demand and government mandating, there is a huge gap that is waiting to be filled by operators and service providers. There are some emerging categories like M-Agriculture, M-governance, M-Law and E-Judiciary which will help the common man in cities and rural areas."
The event was concluded by Mr. Shashidharan – Managing Director, Bharat  Exhibitions," VAS is everywhere today. There is tremendous potential for all service providers and operators. With smartphones making its way into a broader consumer base, we have a huge challenge in front of us. Managing data, network, infrastructure with constant advancement is the key to survive."