Nation wide Mobile Number Portability and Free roaming: Draft National Telecom Policy – 2011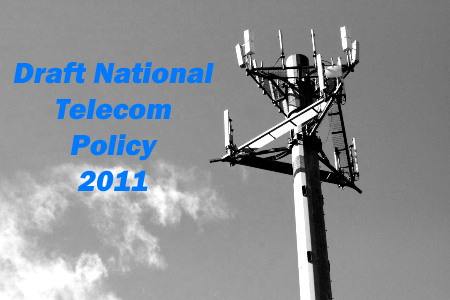 The Union Minister of Communications and Information, Kapil Sibal today released Draft National Telecom Policy 2011. The Draft covers a lots of objectives to make Telecommunication and Broadband services better.
Highlights Draft National Telecom Policy – 2011
Increase in Rural Teledensity from 35 to 100 by 2020 Proposed

Broadband on Demand and 600 Million Connections by 2020

Efforts Towards 'Right to Broadband'

One Nation – Full Mobile Number Portability and work towards One Nation – Free Roaming

Additional 300 MHz Spectrum by 2017 and Another 200 MHz by 2020 to be made Available

Seamless Voice, Data, Multimedia and Broadcasting Services on Converged Networks

80% Telecom Sector Demand through Domestic Manufacturing with a Value Addition of

65% by 2020
Here is the Press Release of Draft National Telecom Policy – 2011
Shri Kapil Sibal, the Union Minister of Communications and Information and Human Resource Development has said that the Telecommunication has emerged as a key driver of economic and social development and in an increasingly knowledge intensive global scenario India needs to play a leadership role. National Telecom Policy-2011 is designed to ensure that India plays this role effectively and transforms the socio-economic scenario through accelerated equitable and inclusive economic growth by laying special emphasis on providing affordable and quality telecommunication services in rural and remote areas. Shri Sibal said this today while unveiling the draft National Telecom Policy (NTP) 2011.
The Minister said that thrust of this policy is to underscore the imperative that sustained adoption of technology would offer viable options in overcoming developmental challenges in education, health, employment generation, financial inclusion and much else. NTP-2011 is an initiative to create a conducive policy framework to address these issues and to touch lives of all citizens and transform India. By formulating a clear policy regime, NTP-2011 endeavors to create an investor friendly environment for attracting additional investments in the sector apart from generating manifold employment opportunities in various segments of the sector. In achieving the goal of National Telecom Policy 2011 revenue generation will play a secondary role.
Shri Sibal highlighted that NTP-2011 has the vision Broadband on Demand and envisages leveraging telecom infrastructure to enable all citizens and businesses, both in rural and urban landscape, to participate in the Internet and web economy thereby ensuring equitable and inclusive development across the nation.
While underlining the salient points of the draft Policy Shri Sibal said that It is now imperative to move towards convergence between telecom, broadcast and IT services, networks, platforms, technologies and overcome the existing segregation of licensing, registration and regulatory mechanisms in these areas to enhance affordability, increase access, delivery of multiple services and reduce cost.
The emerging technology trends in electronics hardware, telecom connectivity and IT will make it possible for millions of citizens to access services electronically in self-service mode using mobile phones and the Internet or through assisted service points such as Common Service Centres etc.
A concerted effort to boost manufacturing activity is now exigent as robust economic growth in the country is leading to an extraordinarily high demand for electronic products in general and telecom products in particular. NTP-2011 provides a roadmap for India to become a leader in cutting edge, state of the art technologies through R&D and creation and incorporation of Indian IPRs in global standards.
NTP-2011 recognises that the rapid growth in the telecom sector requires to be supported by an enhanced pace of human capital formation and capacity building. It becomes imperative to put in place an integrated skill development strategy for the converged ICT sector as a whole so that there is continuous up-gradation of skills in tune with the technological developments.
The importance of PSUs in meeting the strategic and security needs of the country can also not be understated. This policy recognises that BSNL, MTNL and other PSUs will continue to play such important role.
The National Telecom Policy-2011 envisions providing the people of India, secure, reliable, affordable and high quality converged telecommunication services anytime, anywhere.  Some of the important objectives of the policy include:
i.Increase in rural teledensity from the current level of around 35 to 60 by the year 2017 and 100 by the year 2020.
ii.Provide affordable and reliable broadband on demand by the year 2015 and to achieve 175 million broadband connections by the year 2017 and 600 million by the year 2020 at minimum 2 Mbps download speed and making available higher speeds of atleast 100 Mbps on demand.
iii.Provide high speed and high quality broadband access to all village panchayats through optical fibre by the year 2014 and progressively to all villages and habitations.
iv.Promote indigenous R&D, innovation and manufacturing that serve domestic and foreign markets.
v.Promote the domestic production of telecommunication equipment to meet 80% Indian telecom sector demand through domestic manufacturing with a value addition of 65% by the year 2020.
vi.Provide preferential market access for domestically manufactured telecommunication products including mobile devices, SIM cards with enhanced features etc. with special emphasis on Indian products for which IPRs reside in India to address strategic and security concerns of the Government, consistent with international commitments.
vii.Strive to create One Nation – One License across services and service areas.
viii.Achieve One Nation – Full Mobile Number Portability and work towards One Nation – Free Roaming.
ix.To reposition the mobile phone from a mere communication device to an instrument of empowerment that combines communication with proof of identity, fully secure financial and other transaction capability, multi-lingual services and a whole range of other capabilities that ride on them and transcend the literacy barrier.
x.Deliver seamless ICT, multimedia and broadcasting services on converged networks for enhanced service delivery to provide superior experience to customers.
xi.Optimize transmission of services to consumers irrespective of their devices or locations by Fixed-Mobile Convergence thus making available valuable spectrum for other wireless services.
xii.Facilitate consolidation in the converged telecom service sector while ensuring sufficient competition.
xiii.Mandate an ecosystem to ensure setting up of a common platform for interconnection of various networks for providing non-exclusive and non-discriminatory access.
xiv.Promote an ecosystem for participants in VAS industry value chain to make India a global hub for Value Added Services (VAS).
xv.Ensure adequate availability of spectrum and its allocation in a transparent manner through market related processes. Make available additional 300 MHz spectrum for IMT services by the year 2017 and another 200 MHz by 2020.
xvi.Strengthen the framework to address the environmental and health related concerns pertaining to the telecom sector.
xvii.Encourage adoption of green policy in telecom and incentivize use of renewable resources for sustainability.
xviii.Protect consumer interest by promoting informed consent, transparency and accountability in quality of service, tariff, usage etc.
xix.Encourage recognition and creation of synergistic alliance of public sector and other organisations of Department of Telecommunications (DoT) through appropriate policy interventions.
xx.Achieve substantial transition to new Internet Protocol (IPv 6) in the country in a phased and time bound manner by 2020 and encourage an ecosystem for provision of a significantly large bouquet of services on IP platform.
xxi.Put in place a web based, real time e-governance solution to support online submission of applications for all services of DoT and issuance of licences and clearances from DoT.
Some of the major strategies proposed in the policy include:
i.To make efforts to recognise telecom and broadband connectivity as a basic necessity like education and health and work towards 'Right to Broadband'.
ii.To revise the existing broadband download speed of 256 Kbps to 512 Kbps by 2011 and subsequently to 2 Mbps by 2015 and and higher speeds of atleast 100 Mbps thereafter.
iii.To spur the domestic telecom equipment manufacturing segment to meet the indigenous demands for becoming self-reliant in telecom/ICT equipment design and manufacturing.
iv.To encourage indigenous manufacturing of cost effective customer end terminals and devices including mobile devices, SIM cards with enhanced features etc.
v.To build synergies between existing, on-going and future Government programs viz e- governance, e-panchayat, NREGA, NKN, AADHAR, AAKASH tablet etc. and roll-out of broadband.
vi.To ensure the availability of sufficient microwave spectrum to meet current and future demand for wireless backhaul especially in prime bands below 12 GHz, in addition to higher spectrum bands. Unlicensed spectrum will be made available for proliferation of wireless broadband services.
vii.To ensure focused indigenous development in the telecom sector, efforts would be concentrated towards a definite policy direction by creating a suitable road-map to align technology, demand, standards and regulations, after considered evaluation of candidate technologies and the emerging trends.
viii.To create fund to promote indigenous R&D, IPR creation, entrepreneurship, manufacturing, commercialising and deployment of state-of-the-art telecom products and services.
ix.To promote setting up of Telecommunications Standard Development Organisation (TSDO) as an autonomous body with strong participation of the industry, R&D centres, service providers, and academia to drive consensus regarding national requirements.
x.To orient, review and harmonise the legal, regulatory and licensing framework in a time bound manner to enable seamless delivery of converged services in technology neutral environment. The convergence would cover convergence of services, networks and devices.
xi.To encourage digitalisation of the local cable networks.
xii.To allow sharing of Networks and delink the licensing of Networks from the delivery of Service to the end users to facilitate faster roll out of services across the country , enhance the quality of service, optimize the investment and address the issue of the digital divide.
xiii.The technology neutral Unified Licenses are envisaged to be in two separate categories:
a.Network Service Operator (NSO)/ Communication Network Service Operator (CNSO)
b.Service Delivery Operator (SDO)/ Communication Service Delivery Operator (CSDO)
xiv.To facilitate resale at service level – both wholesale and retail – especially keeping in mind the need for robust competition at the consumer end while ensuring due compliance with security and other license related obligations.
xv.To delink spectrum in respect of all future licences. Spectrum shall be made available at price through market related processes.
xvi.To frame an appropriate Exit Policy for the licencees.
xvii.To put in place a framework to regulate the carriage charges, which are content neutral and based on the bandwidth utilisation.
xviii.To permit spectrum pooling, sharing and later, trading for optimal and efficient utilisation of spectrum.
xix.To undertake periodic audit of spectrum utilisation to ensure its efficient use.
xx.To move existing users of spectrum i.e. Government departments, public sector, private sector and telecom service providers to alternative frequency bands or media to make spectrum available for introduction of new technologies.
xxi.To prepare a roadmap for availability of additional spectrum every 5 years.
xxii.To consider requirement of spectrum in certain frequency bands in small chunks at specified locations for encouraging indigenous development of technologies/ products and their deployment.
xxiii.To enact a separate Spectrum Act which inter-alia deals with all issues connected with wireless (spectrum) licences and their terms and conditions.
xxiv.To work towards recognition of telecom as Infrastructure Sector for both wireline and wireless and extension of the benefits available to infrastructure sectors to telecom sector also, to realize true potential of ICT for development.
xxv.To finalise sector specific schemes and targets for promotion of green technologies in consultation with Ministry of New and Renewable Energy (MNRE) and other stakeholders.
xxvi.To prescribe sectoral Standard Operating Procedures for effective and early mitigation during disasters and emergencies. To mandate Telecom Service Providers to provide alternative reliable means of communication at the time of disaster by creating appropriate regulatory framework.
xxvii.To identify the performance standards and QoS parameters benchmarked against the best international standards and evolve suitable compliance mechanism in consultation with TRAI.  To improve transparency, NTP -2011 recognises the need for formulating a separate Code of Practice for Sales and Marketing.
xxviii.To undertake legislative measures to bring disputes between telecom consumers and service providers within the jurisdiction of Consumer Forums/ Consumer Protection Act.
xxix.To create an institutional framework through regulatory measures to ensure that safe-to-connect devices are inducted into the Telecom Network and service providers take measures for ensuring the security of the network and the data/information flowing/stored in it.
xxx.To build national capacity in all areas – specifically security standards, security testing, interception and monitoring capabilities and manufacturing of critical telecom equipment – that impinges on Telecom network security and communication assistance for law enforcement.
xxxi.To ensure security in an increasingly insecure cyber space, indigenously manufactured multi-functional SIM cards with indigenously designed chips incorporating specific laid down standards are considered critical. The whole electronics eco-system for this and other purposes, starting from the wafer fab needs to be built and hence is viewed as a key policy objective and outcome.
xxxii.To put in place an ecosystem to:
a.Assess the manpower requirement at different skill and expertise levels by partnering  with National Skill  Development Council and industry to identify the relevant needs of the sector and  prepare a roadmap,
b.Create an enabling framework in partnership with Ministry of Human Resource Development (MHRD) to periodically upgrade academic curriculum of telecommunication courses, which are aligned with  the technological advancements in the sector for meeting the human resource requirement.
xxxiii.To exploit individual strengths of organisations under DoT/DIT to their mutual benefit for ensuring these organisations to effectively flourish in the competitive telecom market while adequately supporting the security needs of the country. Efforts will be made for according preferential treatment for procurement of products and services rendered by individual organisations.
xxxiv.To take new policy initiatives to ensure rapid expansion of cloud services and technologies at globally competitive prices by addressing the concerns of cloud users and other stakeholders including specific steps that need to be taken for lowering the cost of service delivery.
xxxv.To recognize the role of new technologies in furthering public welfare and enhanced customer choices through affordable access and efficient service delivery. The emergence of new service formats such as Machine-to-Machine (M2M) communications (e.g. remotely operated irrigation pumps, smart grid etc.) represent tremendous opportunities, especially as their roll-out becomes more widespread.
xxxvi.To create a special purpose Telecom Finance Corporation as a vehicle to mobilize and channelize financing for telecom projects in order to facilitate investment in the telecom sector.
xxxvii.To endeavor to include telecom sector projects within the ambit of financing from existing entities such as India Infrastructure Finance Company Limited (IIFCL).
xxxviii.To rationalize taxes and levies affecting the sector and work towards providing a stable fiscal regime to stimulate investments and making services more affordable.
xxxix.To review the TRAI Act with a view to addressing regulatory inadequacies/ impediments in effective discharge of its functions.
xl.To undertake a comprehensive review of Indian Telegraph Act and its rules and other allied legislations with a view to making them consistent with and in furtherance of the above policy objectives.