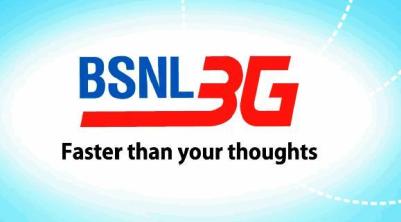 BSNL 3G customers will be offered new facilities making their internet usage on their BSNL mobiles more flexible. The new facilities will be applicable for post-paid customers only and will be effective from the 16th of May.
The new facilities will include the following:
A special Best Value Plan is introduced under 3G postpaid mobile data plan with the following terms and conditions:-

Promotional Offer (Free Data Card):- customer who gives an upfront amount of Rs.10,000 (Exclusive of S.Tax) towards FMC of the data plan will be provided with a 3G data card (Make/Model-Linktop/LW 272, Data speed-3.6 Mbps, Single Band, USB Type) free of cost. The customer can choose any postpaid data plan of his choice and the Fixed Monthly Charge of the plan selected will be automatically deducted from the advance amount till the balance in account exhausted. The promotional offer will remain open for a period of 90 days from the date of launch.
Annual payment option for all 3G postpaid data plans will be available with two months Fixed Monthly Charges (FMC) discount i.e. ten months FMC will be taken as annual charge, when the payment is made at a time in advance.
Customer who wants static IP address under BSNL 3G post-paid plans, can be provided with one static IP address @ Rs. 250/- per month. Annual payment option as mentioned at para (iii) above will also be applicable to Static IP address charges.
A discount of 10% on FMC of all 3G postpaid data plan is to be offered to Government Employees (Central Government/ State Government/ PSUs) both existing / new connection after verifying the credential of the officer. The above 10% discount cannot be clubbed with any other special discount/concession.
Thanks, Bandhan Preet Singh.