We recently have seen quite an uproar about the next Nexus device, with some reports claiming that LG would produce the device for the second time and others favouring the Motorola company due to its recent success with the Moto X.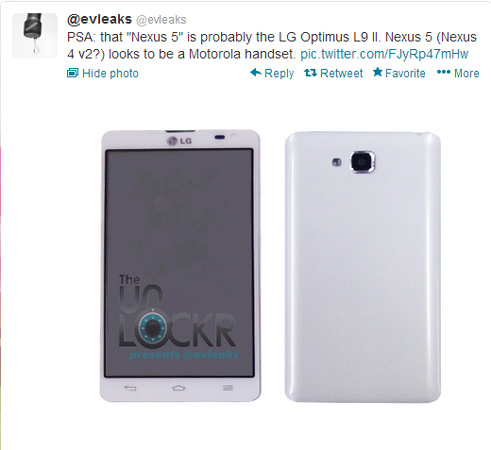 According to reliable sources, it may indeed be Motorola that would unveil the Nexus 5. However, all the details and images of the Nexus 5 from LG that have surfaced so far are supposedly of the LG Optimus L9 II. However, it still hasn't been confirmed that Motorola would make the Nexus 5 but instead a Nexus 4 v2, which implies that Google might be considering the possibility of a second Nexus 4 handset, instead of directly moving up to the Nexus 5.
The LG Optimus L9 II is said to sport a 4.7 inch display with resolution of 1280 x 720 pixels. The device is expected to be powered by a 1.4 GHz dual core Qualcomm Snapdragon 400 processor along with 1 GB of RAM. Surprisingly, the device will run on Android v4.2.2, which clearly points that this could not be a Nexus device.
While the next Nexus device should be launched by Google towards the end of this year, it will be interesting to see which company finally gets the device, LG, which claims to make a LG G2 like Nexus 5 handset, or Google's wholly owned subsidiary, Motorola, which impressed the top brass with the Moto X.