This holiday season brought a smile on the face of Google Inc. The internet giant's tablet, the Nexus 7 outsold Apple's much talked about iPad Mini.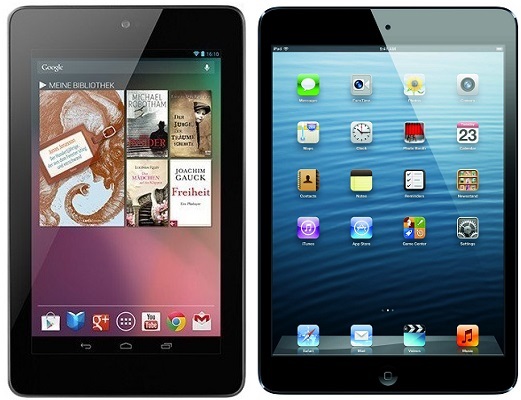 As per market stats from BCN found that in the 2400 retail stores surveyed, the Nexus sales were at a booming 44.4 percent while the iPad mini followed closely at 40.1 percent. The miniscule remainder was tablets of other companies.

Evident reason for Google's Nexus 7 becoming the hot favorite is the low price compared to Apple's iPad mini. The Nexus 7 which costs 19800 yen ($221) is easily preferred over the iPad mini which starts at 28888 yen ($322) despite all its features.

Even in a tiny market like Japan, which sold nearly 3.6 million tablets in the year 2012, Google's Nexus 7 and Apple's iPad mini dominated the tablet market.

The Google Nexus 7 packs in the following specifications:

7 inch capacitive touch screen with HD IPS Display

Display resolution of 1280 x 800

1.3 GHz Quad-core Tegra 3 processor

1GB RAM

1.2 MP front facing camera

Android 4.2 Jelly Bean

16 GB and 32 GB storage options

Wi

-Fi, Bluetooth, NFC, 3G (optional)

4,325mAh battery