Nexus phones to have "insanely great cameras"
With cameras on mobile devices getting higher resolution lenses with every passing model, the need for a dedicated camera is on a steady decrease. If this trend continues, these devices will soon replace cameras totally. Google's Nexus devices seem to be taking a step in this direction.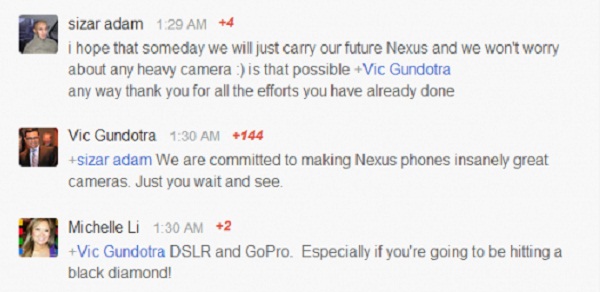 In response to a query from a user, Senior VP of engineering at Google, Vic Gundotra, said we can expect future Nexus phones to have "insanely great cameras". This signals a move from Google to start concentrating on the camera and give something like the Nokia's 41 megapixel camera if not better.
Though we might have to wait a while to see the "insanely great cameras" in Nexus devices, which are not due for a while now, it is yet to be seen if something similar would be incorporated in the much talked about Motorola X phone which is scheduled for a May launch.
With the earlier Samsung Galaxy Nexus having just a small 5 megapixel camera, the 8 megapixel camera in the LG Nexus 4 brought a ray of hope towards better cameras. It is yet to be seen what Vic Gundotra meant by "insanely great cameras", will it replace normal cameras totally or just try to mimic them?