With the release of BlackBerry 10 OS there have been grievances from customers about availability of instant messaging clients for the platform. While IM+ Pro has been the most used IM client, now Nimbuzz has stepped in to provide their service to the Blackberry users.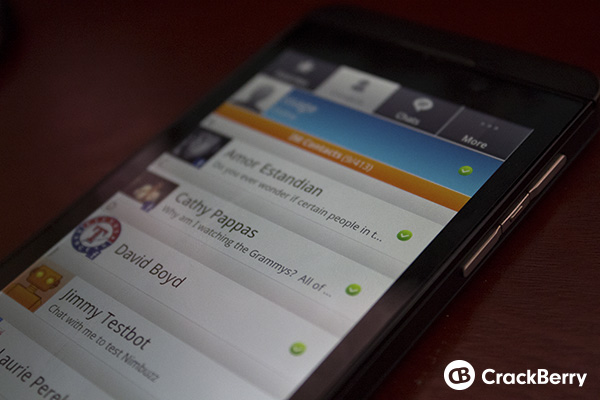 The Nimbuzz instant messaging client which is an Android port is now available for the BlackBerry 10 OS. Nimbuzz allows users to connect to Gtalk, Yahoo Messenger and Facebook Messenger via their mobile.
Besides this the users of the Nimbuzz app can chat directly with other users of the Nimbuzz app. The app also allows the users to join chat rooms based on a topic of interest and chat with other random users.
Cross-platform video and picture transfer is supported thus allowing to send images and video files. The hub integration for Nimbuzz isn't fully developed yet and extends up to the notification section. But over time once the API's become easily available we should see more compact integration. Unfortunately, this app like most others, are available as a port on the Blackberry platform.
Download the Nimbuzz app for Blackberry HERE