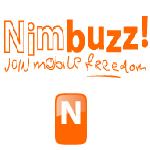 Nimbuzz has today launched its Symbian 2.2 client packed with new features including a world first for Symbian handsets, pop up notifications, and full Twitter functionality.

Nimbuzz users on Symbian can now integrate with twitter. Nimbuzz has incorporates a Twitter client that includes Timelines, Direct Messaging, Searches, Trends and Profiles.

A groundbreaking world first for Symbian handsets is the introduction of pop-up notifications, notifying users of incoming chats and events, while the application runs in the background. (I wanted this feature in Nimbuzz from quite sometime)

Further additions to the Symbian update include kinetic scrolling for 5th edition touch screen phones, new chat screen and contact list layout, chat history, plus a direct link to the NimbuzzOut rate calculator for international calls have also been added.

It can be downloaded from Symbian app stores, such as Nokia's Ovi Store, and from www.nimbuzz.com.