Yesterday we told you that the Nokia Asha 308 which Nokia is advertising in its Diwali offers is expected to be officially announced in India on October 23rd and the feature phone had been already available on online retailer Infibeam for Rs.5799.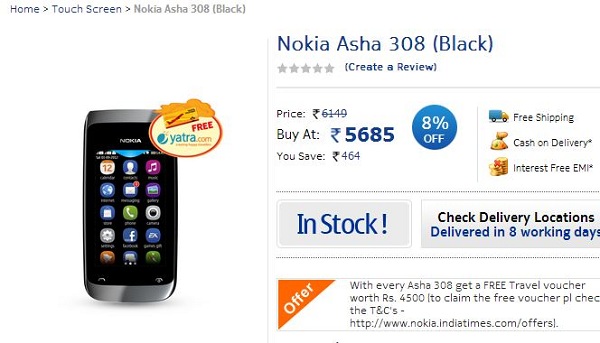 The Nokia Asha 308 was having a 'Coming Soon' tag over it at the Nokia Shop but today the device is 'In Stock' and Nokia has priced the device at Rs.6149 but is available for a Best Buy price of Rs.5685.
We can now also confirm via the Nokia Shop executive we spoke to that the stocks of the Nokia Asha 308 are hitting the market just in time for the official announcement.

While the device is available on Infibeam and Nokia Shop, last night Flipkart put up a Pre-order notice over the device for Rs.5576 and an expected release date of October 4th week.

While the Nokia Asha 308 is a dual-SIM version minus the

Wi

-Fi, Nokia Asha 309 is a single SIM version of the same but has

in-built

Wi

-Fi connectivity. The Nokia Asha 309 is still 'Coming Soon' and we expect it to arrive at a later date.