Nokia Beta Labs launches Gig Finder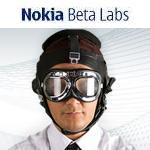 Nokia Beta labs has launched a new application – Gig Finder to search for concerts/ live music entertainment, purchase tickets directly from your mobile, and get relevant recommendations based on your music tastes and location (Location relevance currently available for USA, Canada, UK & Ireland). Gig Finder brings you smart recommendations and helps you find the information you need to get the best tickets for music events right from your phone.

Key features of Gig Finder:

Easy Search. Quickly find where to find the best concerts & other music events near you. Search by artist, genre, city, venue, specific date, date range or a combination of any.

Buy Tickets. Direct links connect your mobile to various ticket vendors to conveniently find the best seats & prices

Smart Recommendations. Get recommendations for live events and venues based on your music tastes (profile & on device music library) and location

Get Directions. See where the event is and how to get there with a direct link from Maps.

Start the Buzz. Share information about the gig to Facebook, SMS, or Email.

Download Music. Events link directly to the artist pages in Nokia Music Store / Ovi Music (when available in your country) so you can preview or download music before or after seeing your favourite artists live.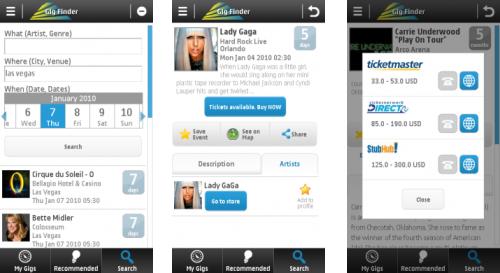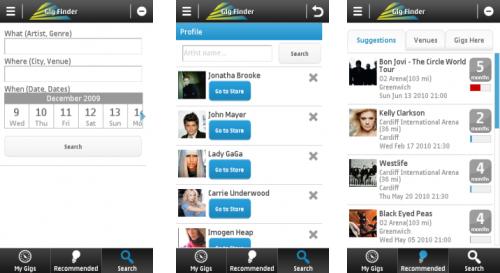 Compatibility and System Requirements
Works with Nokia devices based on S60 5th Edition: Nokia N97, N97 mini, X6, 5800, 5530 & 5230.
To download it click here
If you have suggestions for this app you can post them here