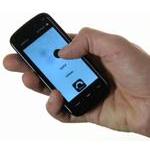 Nokia has come up with an application for blind and visually impaired people. Nokia Braille Reader gives SMS for the blind and visually impaired. It captures received SMS messages and brings them to the foreground for reading using Braille and tactile feedback.

The application has been developed in a joint project between Nokia, Tampere University and the Finnish Federation of the Visually Impaired.

The Nokia Braille Reader is compatible with Nokia devices based on S60 5th Edition, including Nokia N97, 5800 XpressMusic and the newly released N97 mini, 5530, 5230 and X6.



One Guy Sopac views about this application
First off I am visually impaired (not yet blind). I use an Apple iphone almost exclusively (only because I can see the screen, the icons, and the virtual keyboards). I gave away my E71, I have a hard time with my Blackberry BOLD and 8900 Curve. I have and I do attempt to use my Xpress Music 5800 but I find it less intuitive than the E71 or the Blackberrys. I downloaded the Braille Reader onto my Xpress Music 5800 which I mainly use for music. I don't know if the download is buggy but I didn't get any tactile vibrations when using the braille buttons. It is a good thing I can still see what is on the screen otherwise there is nothing (if you can't see) for a reference position. How would (as a blind person) use the menu? If you desire to market a device for the visually impaired and blind customers you will need to build a specific device for that market, imho. For those that are blind already a teacher would be required. For those of us that have not reached that blind state yet we would be able to teach ourselves.
All the smartphones mentioned above were purchased this year just trying to find a smartphone that I can use with my vision. Now I am excited about the N900 and those similar to come. I just hope Maemo5 will be more intuitive than the S60 V5 o/s. It is indeed powerful but too bad it isn't customizable like my desktop and laptop running Windows XP. I hate the iphone since they lock it up and put apps I don't need and will never use, (and I can't get rid of). Let me have a smartphone/computer that I can put what icons "I" want on the home screen and have only the programs/apps I use. That and a High Definition display just like my Nokia 5800 with a larger screen and virtual buttons I can see to use then you will have a starter for the visually impaired. Personally I don't need a whole lot of apps or programs due to my vision (or lack thereof) probably way less than a person with healthy eyes would need or want. Our needs will always be less than someone else's wants, lol.
This may sound like complaining but it isn't. I truly believe Nokia has come onto something in attempting to address people such as myself and those that are already blind. We have been neglected in this world of mobile phone/computing. It does my heart good to see Nokia take the lead. The iphone fits my hand nicely, I wouldn't mind more bulk if it was more powerful and more computer like. The screen size is about right on the iphone. If it had the screen resolution of the 5800 Xpress Music, a great camera, a few common apps, connectivity, and great sound quality, OH YEAH!! Again very nice try Nokia, I know you can do it and Thank You for trying.
Source of Sopac's Comment