Nokia Drive to remain 'Exclusive' to Lumia, other WP OEM's not included
There were speculations doing the rounds that Nokia may release its Nokia Windows Phone exclusive apps for other Windows Phone OEMs at a price. But then Nokia has made it clear that Nokia Drive will remain Exclusive and will be available only to its Lumia range of devices.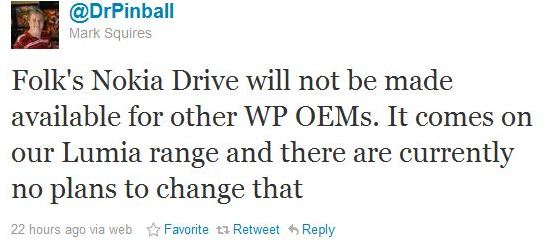 Nokia's U.K. Communications Director, Mark Squires on Twitter, left a tweet saying, "Folk's Nokia Drive will not be made available for other WP OEMs. It comes on our Lumia range and there are currently no plans to change that."
But we all have seen how Nokia's exclusive apps for WP have been hacked and also made to run on other unlocked WP devices. For this Microsoft is going to add an extra layer of security which will encrypt the XAP files, so that they are prevented from being side-loaded after being available in the marketplace. But this is going to happen only after majority of WP running devices have received the Mango 7.5 update.