Nokia Lumia 820: Changeable rear covers, microSD slot and Wireless charging arriving
Along with the leaked specifications of the unannounced Nokia Lumia 920, TheVerge claims to have gotten hands on the hardware specification for the Nokia Lumia 820 too which is expected to launch alongside the Lumia 920.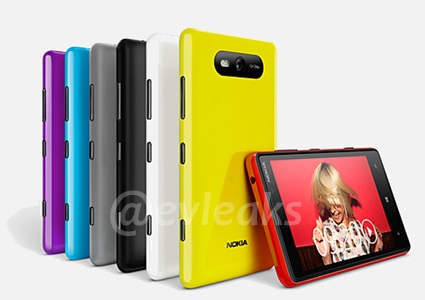 The source is not confirming that the Nokia Lumia 820 will be arriving with a 4.3 inch screen and will be Nokia's mid-high budget smartphone.

Along with it the Nokia Lumia 820 will go on to borrow its specs from the Nokia Lumia 920 which will also be launched tomorrow. Along with the 4.3 inch screen, the Nokia Lumia 820 will arrive with a 1.5 GHz dual-core processor, 1 GB of RAM and 8 GB of internal storage. But there will be a microSD slot in the Lumia 820 for users to expand the storage.

The camera of the Lumia 820 is said to be similar to the one arriving on the Lumia 920 but the source is unable to confirm if it'll bear the 'PureView' branding or not.

Oh and not to forget, there is wireless charging included in the specs of the Lumia 820 like the Lumia 920 and a charging dock will be available for the same purpose.

One unique feature of the Lumia 820 is that the device will arrive with changeable rear covers thus giving its owners freedom to purchase additional covers of different colours. Coming to the launch date, the device is expected to be available in end of October – early November.