Just less than a week back, we told you about a probable Nokia Lumia 910 which may arrive with a 12 MP camera, and today, via WPCentral we get to know that a Dutch retailer has even gone ahead and listed the device on its website Typhone.NL.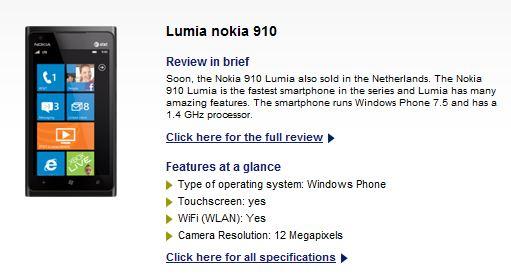 As it was previously being rumoured, the retailer has listed Lumia 910 with a giant 12 MP camera at the rear rather than the usual 8 MP in the Lumia 900. So is this device to keep up the Nokia N8 flagship's tradition? Also the 910 is missing the LTE radios onboard, which may also go ahead to prove that this may be the global non-LTE version of the Nokia Lumia 900.
All other features listed on the website remain the same as that of the Nokia Lumia 900, from the 16 GB on-board storage to the 21 Mbps data speed, to the 4.3 inch screen. It'll be interesting to see if this listing turns out to be a fake or it really has some real sauce to it. What do you think?