As new smartphones are launched, they go through hell as new drop tests and torture videos flood the web.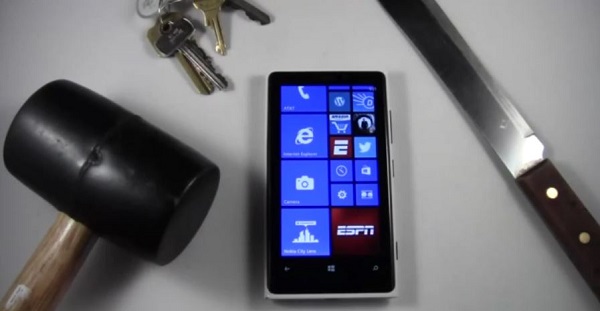 And now, the guys at PhoneBuff decided to put the Nokia Lumia 920 through hell by scratching the smartphone with keys, being slashed by a knife and finally a mallet, which is a kind of hammer usually of rubber.

The test starts with a bunch of keys which are the usual culprits which cause scratches to your glossy-new smartphones while in the pocket. A key is scratched hard on the polycarbonate back of the Lumia 920 and later on the 4.5-inch screen but there are no signs of scratches on the smartphone.
 
With the test with the key ending, the situations turn bizarre as a sharp knife enters the scene. The Lumia 920 is then attacked continuously on the back and on the screen with just minor scratches. But then, the knife is attacked on the side of the 920 which leave noticeable marks.
 
Next, a mallet is used and is attacked on the Lumia 920. There are not much of damage to the back and even the screen of the 920 which justifies as to how strong the screen of the smartphone is.
 
Last but not the least, the Nokia Lumia 920 is used as a hammer and the smartphone proves it mettle coming out without any serious damage to the screen. Catch the torture video below to see how tough the smartphone is.