It seems that the Microsft-Nokia merger isn't holding back Nokia, the way we expected it would. After the exciting innings at the Nokia World 2013, Nokia is back with more phones. After the rumored Nokia Lumia 1820, a second smartphone has leaked from the company. This one is called the Nokia Lumia Icon and comes with features such as a 20-megapixel camera. Read on for more.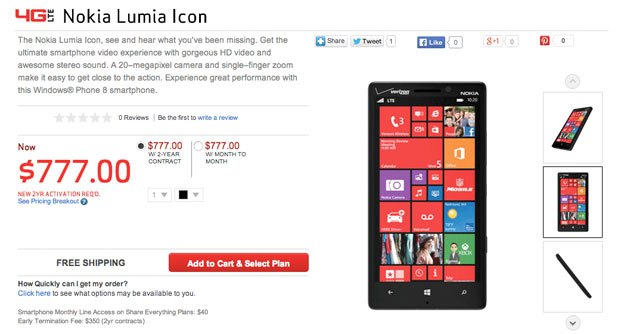 The Nokia Lumia Icon smartphone has been leaked by the US vendor Verizon. It set to boast of features such as Windows 8, a 2420 mAh battery, wireless charging support, a 20-megapixel PureView camera and a huge HD screen (supposedly 6-inches). The pricing according to the leak is an exorbitant $777 which is something at par with the pricing of the Nokia Lumia 1520.
The ad was later taken down by Verizon, but iy seems we might get a go at it soon. Nokia, it seems will try to release as many devices as it can before its deal with Microsoft gets finalized in March.