Nokia N97 Mini Unveiled in India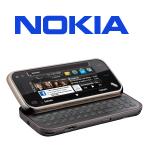 Nokia, has unveiled in India the new addition to its Nseries range, Nokia N97 mini, companion to the successful Nokia N97. The device was launched during Nokia N-Tour-Age, an interactive-technology-
solutions showcase of Nokia's premium devices and services. Designed for the style-conscious consumer, who is active on social networks, the Nokia N97 mini is a smaller mobile computer with stainless steel cues, featuring a tilting 3.2" touch display, QWERTY keyboard and fully customizable homescreen.
Users can personalise the homescreen of their device even further with thousands of different applications and services available from the Ovi Store. From games, videos and podcasts to productivity tools and web services.Available in three colors, viz, Cheery black, Garnet and White, the Nokia N97 mini will start shipping in the last week of November 2009 at an MRP of Rs. 30,939.
Nokia Nseries has announced an online registration offer for N97 mini enthusiasts across the country, starting November 23, 2009. To be amongst one of the first to own a new Nokia N97 mini, consumers can register online by logging on to www.getN97mini.com and filling up a simple form.
Lifecasting on N97 mini
The N97 mini comes with Lifecasting with Ovi. Offered in partnership with the world's largest social network, Facebook – Lifecasting with Ovi is the first application to let people publish their location and status updates directly to their Facebook account from the home screen of a mobile device. Lifecasting with Ovi is available on Nokia N97 mini via Nokia Beta Labs.