Nokia Q2 results prove out to be disappointing
Nokia has been the leader in mobile phone handset production for quite some time now. But the Q2 results for 2011 show that the company isn't doing all that well now. There have been certain losses in various segments and departments of the company.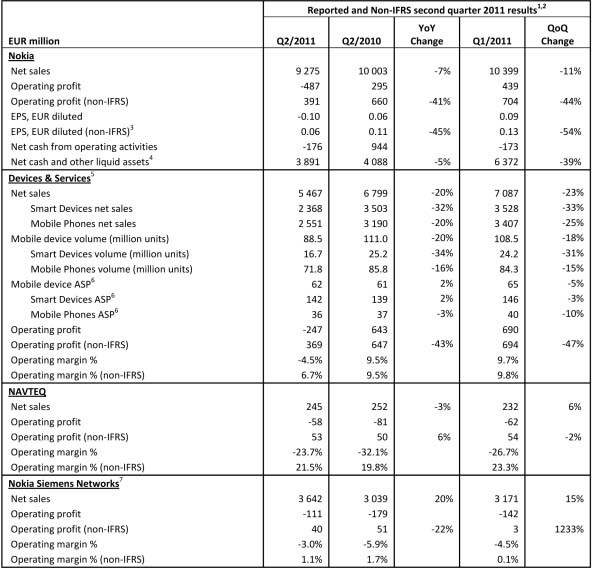 From the table, it's visible that the company as a whole which includes Nokia-Siemens Networks and NAVTEQ has €9.26 billion which was down 7% in net sales and an operating loss of €487 million.
The net sales of the Devices & Services department of Nokia decreased 20% down to €5.5 billion €2.3 billion for smartphones and €2.5 billion for feature phones. Nokia shipped 20% fewer devices overall; 88.5 million in total, compared to 111 million for Q2 2010. Nokia's smartphones took a 31% decrease in shipment volumes and their gross margin for Q2 2011 went down to 25.7% from 32.2% in Q2 2010.Feature phone shipments also fell by 16%.
The tough competition from Android and Apple has left Nokia in deep trouble and is losing the market fast. Will the introduction of Windows devices make it any better ? We'll have to wait and watch.