Nokia's super-dry technology for your phone
Nokia, it seems after the worst year of its history (2011) has stood up once again to be the giant it really is. And, this time it has new and innovative approaches towards smartphones like never before. After the success of the Lumia range, Nokia is trying to make its upcoming phones even better than before.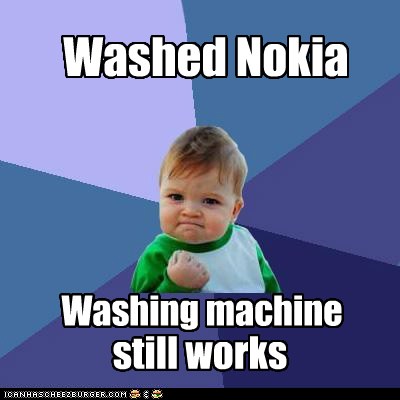 Chris Bower, Chief scientist at Nokia research Centre, Cambridge says" Like many scientists we are trying to copy what nature has been doing perfectly for thousands of years".
We have all heard stories about phones being washed away in the rain. My personal favorite was this one in which a phone was washed in the washing machine by mistake and still survived. The phone was the Nokia 1100.
This time though, they are looking for new sources of inspiration rather than just designing rugged feature phones. Taking an inspiration from a lotus leaf that doesn't let water stay on it, Nokia's super-dry technology works like this

. The biggest challenge is making nanostructures robust enough to withstand every day wear and tear. You could put a super hydrophobic coating inside a device now because people can't degrade it, it can't get knocked around in your pocket. To put it on the outside is much, much tougher. But you want it on the outside because that's where you see the effects of keeping your phone really clean"
So how do they do it? Well, here's how. One more thing they took inspiration was Teflon coated non-stick pan. The super hydrophobic coating using a nanostructure which traps a layer of air, which doesn't absorb water and just lets it slide away. We have already seen proofs of this technology from Fujitsu and HZO at the MWC. Nokia uses a layer of Fluoropolymers and Silicone to waterproof their phones. Beyond that there is a layer of Graphene. A strong material, it will replace the layer of Tin Oxide that is mostly fond in phones.
This development is still in the works. We hope to hear more about it soon.