Nokia has today released an update to its Nokia Transport to Beta 2.1 bringing in more improvements to the already nice app. The Nokia Transport App was updated to version 2.0 just a few days back in May.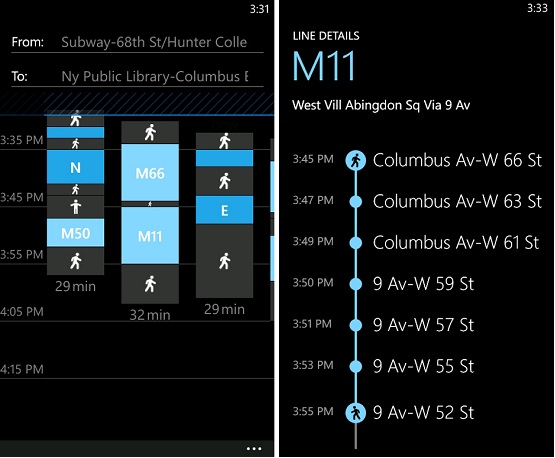 With this release, Nokia has brought in new features which now include enhanced Bing search integration, an easier way to manage favourite locations and improved access to information while in transit.
Better integration with Bing search: 
It is now easy to launch Nokia Transport from Bing search results (where available).  You tell where you want to go and we show you the fastest way to get there using public transportation.

Detailed Line View— Counting stops is a thing of the past:
Wait, is this my stop? Or is the next one? With Nokia Transport you can be sure, with the ability to view upcoming station names and stopping times while in transit, so you can enjoy your journey, even to someplace new.
 
Multiple Live Tile Support— Your favorite destinations with a tap:
You can now pin your favorite destinations to your start screen, making it easier than ever to quickly find the best route there from wherever you happen to be.  We don't know how many you can add, we tried fifteen different locations!  You can pin your favorite restaurant, that perfect little park, or even your home. So no matter where you are, you can find your way with just a tap.
 
So you can download the updated version of the app from the Marketplace as a notification for update would arrive on your Lumia smartphone. Also note that the update is being rolled out gradually so it may not be immediately be available in your region and may be available in the coming days.