How many of you tried the new Secret app that has just been released on Android? We just tried it (and loved it too) and found a really interesting piece of information. Sorry, can't keep that a secret.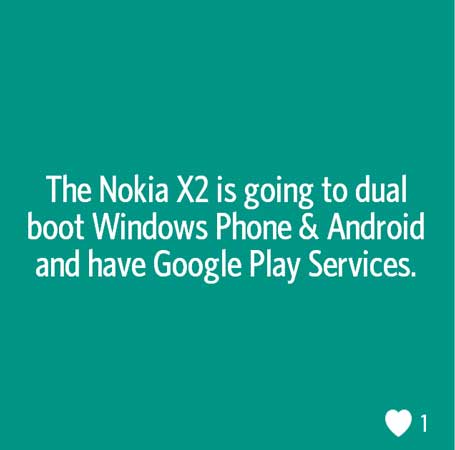 An unknown user revealed on the Secret app that the upcoming Nokia X2, which had surfaced in rumours a few days back, would have the capability to dual boot Android and Windows Phone. Not just that, the user also claims that the phone would also have support for the Google Play Services, a major complaint that was raised by all the users.
However, given the source of the information, we have absolutely no reason to believe this rumour. Not just is the user without any verified credentials but is anonymous. But given that Microsoft has taken over Nokia and the company would do just about anything to push its Windows Phone platform over the Android platform, there could be some weight in this rumour. Meanwhile let us know what you think about this.