Note 4's Exynos 5433 beats the Snapdragon 805 in benchmark tests
We all know by now that the Galaxy Note 4 will come in two processor variants, one with the Snapdragon 805 for North America and some Asian countries while the other variant with an Octa-core 64-bit Exynos 5433 chipset for European markets and the rest of the world. While we know that the Snapdragon 805 chipset is a powerhouse, we have been itching to know how powerful is the Exynos 5433. Well, our wait is over, as the two variants of the Note 4 have been benchmarked and we know the results.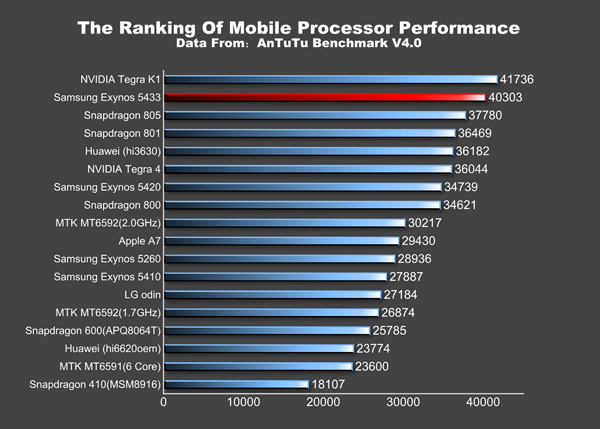 The results should surely surprise you and it's surely a pleasant surprise. Over at AnTuTu benchmark, the Octa-core 64-bit Exynos 5433 has scored more than 40,000 points while the Snapdragon 805 scored 37,780. The Exynos chipset manages to get near the beastly Tegra K1 chipset.as well. Moreover, the new ARM Mali-T706 with the Exynos 5433 chipset performs better than the Adreno 420 GPU in the Snapdragon 805 chipset.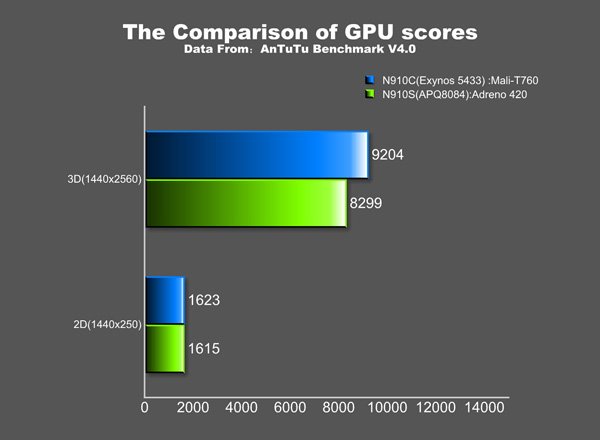 The great performance from both these chipsets should help a lot in powering the pixel dense Quad HD (2560x1440p) displays, which will supposedly be part of the Note 4. We are pretty sure now that the Galaxy Note 4 will feature some great performance and now, we are only curious about the battery life. If the previous Note flagships are any indication then we should get a big enough battery to power the powerful Note 4 hardware.