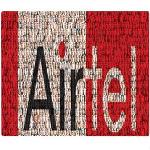 Airtel, the leading service provider of India has launched a scheme wherein all calls will be charged on the basis of 3 minutes pulse instead of the traditional 60 seconds or the per second pulse. We have already seen similar offer from Reliance last year where all local and std calls were charged at Rs. 1/3 minutes. However Reliance revoked this offer this year and started offering same scheme for Rs. 1.20/3 minutes for new customers. Airtel has similar plans as they launched a special voucher priced at Rs. 22 which offers All On-net local and std calls at Rs. 1/3 minutes and all Off-net calls for Rs.1.20/3 minutes. This voucher comes with a validity of 30 days. There wont be any change in the sms tariff.
Following are the details of the offer:
All Airtel to Airtel local and std calls priced at Rs. 1/3 minutes

All local and std calls to other network at Rs. 1.2/3 minutes

No change in sms tariff

Tariff Validity- 30 days
This is a good offer from Airtel as the effective cost of On-net calls will be 33 paise/min and Off-net at 40 paise/min. However the validity of this pack is the biggest turn-0ff. 30 days validity seems very less when compared with a whopping 365 days validity of Reliance.