With the rise in the usage of instant messengers, Hike has now launched the Hike Direct app to help sharing files.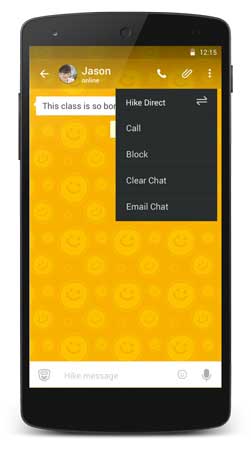 Hike Messenger has announced the release of the new feature called as the Hike Direct, which allows you to chat, exchange stickers, transfer photos and heavy files without requiring data. The Hike Direct feature connects mobiles within a 100 meter radius without involving the cellular network. The feature uses Wi-Fi Direct technology that help establish peer to peer network connection between the two phones.
Using Hike Direct, Users can chat and share files directly up to a speed of 40 Mbps with very low latency. The company claims that it is possible to transfer 100 MB of data in less than 10 seconds using the feature. The feature can be availed by updating to the version 4.0.6 and above on Android and is soon expected to rollout for the iOS and Windows platforms.
Speaking about Hike Direct, Kavin Mittal, Founder & CEO, Hike Messenger, said, "Hike Direct has been built on breakthrough technology that adds a whole new dimension to messaging enabling hikers to chat and share files with their friends without the internet and without incurring any data charges. One can get speeds up to 40 Mbit/sec when chatting and sharing files through hike direct. Data or no data, hike will always work. It's incredibly powerful."