Now Book BSNL Landline or Broadband by sending SMS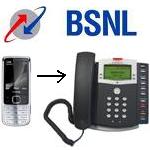 Now register your request for BSNL Lanline or BSNL Broadband by just sending a SMS. This helps in avoiding an extra effort of going to BSNL offices. Once your SMS is received by the BSNL team, they visit you for collection of documents so as to install the facility at the earliest.

If you want to apply for landline, you have to send a SMS in this format – LL <STD code>
For broadband connection – BB <STD code> + landline number.
For other services send SMS – Others <STD code>.

BSNL subscribers can send SMS to 54141 and other subscribers to 9400054141.
Registrations can also be done on the web site http://udaan.bsnl.co.in