Official Gingerbread update for the Motorola Droid 2 is now available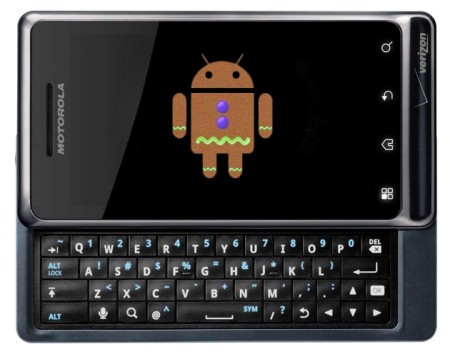 The Motorola Droid 2 has finally got the update it really needed. The new update brings in the Android version to 2.3.3 and is available OTA. The update however is only for the Droid 2, and not the Droid 2 Global.
Here is the change-log:
New Download Manager

App and Power Management Details

Multi-touch key-chording

Improved word selection copy functionality

New UI and color scheme

New dock icons

App groups

Improved security

Improved battery life while using Wi-Fi

Fixed issue that caused frequent data connection drops

Mobile Hotspot status is displayed accurately

Improved email application

Correct contact name is displayed when receiving SMS messages

Emoticons are displayed in messages

Forward SMS message conversations accurately

Notification LED will flash when new message is received

Access My Verizon without any force close errors

Compass calibration within Google Maps syncs accurately with your location

Geo-tagging features available for camera applications

Clock widget updates time correctly

Callback numbers now populate in Dialer app

GPS apps and programs no longer cause unnecessary device resets

Google Books is now preloaded

V CAST Apps is now preloaded

V CAST Media Manager is now preloaded

Blockbuster® movie rentals license remains active after download

Keypad backlight turns on in darker settings

Improvements in screen display no longer causes display screen to turn black

Fixed issue that caused factory resets when the device's mobile number is changed

Fixed issue that caused device reset and a black display screen after over the air upgrades.