OmniVision has announced the OV16820 and OV16825 which are two 16-megapixel Camera Chip sensors that support 16-megapixel burst photography and can capture 4K2K video, or Quad Full High Definition (QFHD), at 60 frames per second.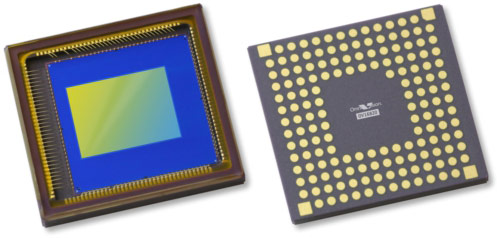 The chips are made on the 1.34-micron OmniBSI-2 pixel architecture and both the chips seem to stand well against the emerging standards in high-resolution video recording for the digital still and video camera markets and the high-end smartphone market.

Both the chips have a sensor size of 1/2.3 inch and are capable of operating in full resolution (4608 x 3456) video at 30 FPS, 4K2K (3840 x 2160) video at 60 FPS, and 1080p HD video at 60 FPS with extra pixels for electronic image stabilization.
Also the sensors enable full resolution 16-megapixel burst photography and the chips' processing functions, including defective pixel and noise cancelling, RAW scaling, image size, frame rate, exposure, gain, cropping and orientation are programmable through the serial camera control bus (SCCB) interface.
OmniVision will be bringing the sensors by Q4 2012.