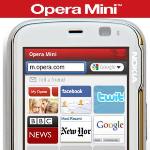 Opera has released Opera Mini 5.1 for Windows Mobile. The new update brings better support for high resolution handsets, accelerometer support and the ability to set Opera Mini as the default browser. The New Opera Mini 5.1, therefore is aimed to create a better web experience, whilst using Windows Mobile devices.
Opera Mini 5.1 can be used for Android, Java, and BlackBerry phones. It is also available for 5.x and 6.x handsets, and Windows Mobile 2003 SE. It's server backbone speeds up browsing and reduces the data that is transferred to the phone. If it is made to roam on high-priced networks, or have pay-as-per-use data plans, then Opera Mini can is the right option; since it can cut down your mobile data bill by almost 90 percent. Opera can also be added as the default browser which will in turn automatically pick the optimized version for one's mobile.

Key features of Opera Mini 5.1 are –
The ability to set Opera Mini as the default browser

Support for devices with high-resolution (high DPI)

Improved page layout and font rendering

Support for auto-rotation

Advanced configuration support for power users
With the ever increasing number of browsers available for the PC and mobile users, Opera may stand out due to its attractive features. Well, let's wait for some time to know whether Opera is being tagged as the 'Next Big Mobile Brower'. In the meantime, one can safely bet, others are busy testing features in their labs for another surprise launch.
To download Opera Mini 5.1 for Windows Mobile visit m.opera.com with your phone's default browser, and Opera will automatically select the optimized version for your phone. Opera Mini is free to download and use. Opera Mini works on Windows Mobile 2003 SE, Windows Mobile 5.x and Windows Mobile 6.x phones.