Opera today released its 'State of the Mobile Web Report' for the month of June 2010.  According to this report Opera Mini saw a slight decrease in unique users, pages viewed and data consumed in June 2010. In all, 59.4 million people used Opera Mini in June, 27.3 billion pages were served and 3.8 petabytes of operator data were compressed for Opera Mini users.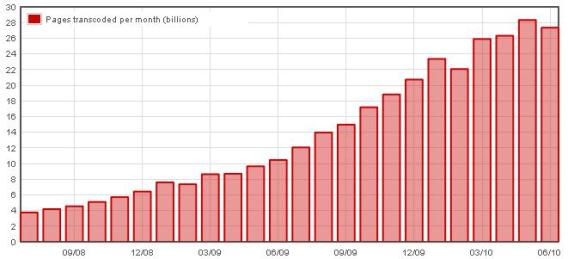 Accroding to this report, Page-views and Unique users increased in India since June 2009 by 374.4% and 346.9% respectively.
Top 10 sites which are visted using Opera Mini in June 2010 (India)
1.google.com
2.orkut.com
3.facebook.com
4.youtube.com
5.getjar.com (up from 10)
6.yahoo.com (down from 5)
7.songs.pk
8.zedge.net
9.wikipedia.org (down from 6)
10.my.opera.com (down from 9)
Top handsets for June 2010 (India)
Nokia 5130 XpressMusic
Nokia 2700c
Nokia 3110c
Nokia 2690
Nokia N70
Nokia 2730c
Nokia 6300
Nokia N73
Nokia N72
Nokia 7210c
Global trends:
In June 2010, Opera Mini had over 59.4 million users, a 3.2% decrease from May 2010 but an increase of 124.7% since June 2009. The slight decrease in key metrics can be traced to certain countries where we have experienced some technical and political challenges that now are about to be solved.

Opera Mini users viewed over 27.3 billion pages in June 2010. Since May, page views have gone down 3.4%. Since June 2009, page views have increased 161.8%.

In June 2010, Opera Mini users generated over 416 million MB of data for operators worldwide. Since May, the data consumed went down by 4.0%. Data in Opera Mini is compressed up to 90%. If this data were uncompressed, – Opera Mini users would have viewed over 3.8 PB of data in June. Since June 2009, data traffic is up 147.1%.

Ukraine, South Africa, the United States and Vietnam all rose one position on the list of top ten countries (number of Opera Mini users), while Nigeria dropped from position 5 to position 9.