Opera for Windows Phone is almost Here
Opera is said to be No. 1 Web Browser for any mobile device. But it is not available for Windows Phone devices as of now. The developers were not interested in developing a version for Microsoft's Windows Phone OS. But things are about to get changed soon. Opera recently opened registrations for Beta testing the Windows Phone version of its Mobile Browser.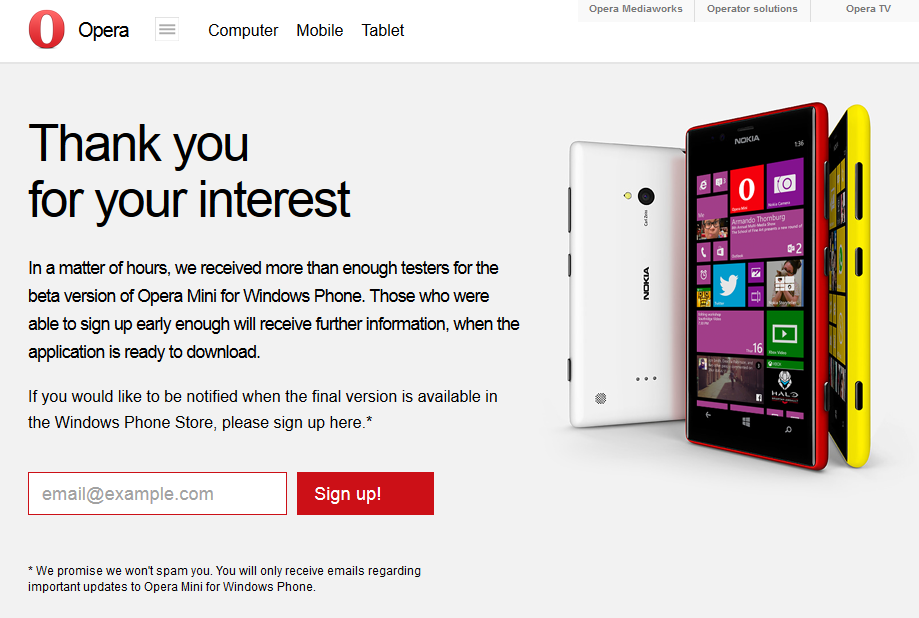 After a lot of Windows Phone users requesting for the app to be made available on their Windows Phone, Microsoft finally approached the developers of Opera. Few months ago, Opera announced that a Windows Phone Version of its Mobile Browser is in making and will arrive in Windows Phone Store soon, but didn't gave any exact date. Yesterday, they silently opened the registration for Beta Testers. Though the registrations are closed now, but it is sure that the final release is around the corner and will be available soon in future.
Were you one of those waiting for the legendary browser to come on your Windows Phone Device? I guess its your moment to rejoice. Don't forget to pin us in your speed dials once Opera finally arrives. Happy Browsing.