Oppo Find 7 to be launched in two variants – full HD and quad HD
We have been closely watching for updates about the Oppo Find 7 mainly because of the recently rumoured 50 MP camera. Now the company has revealed that the device would come in two versions.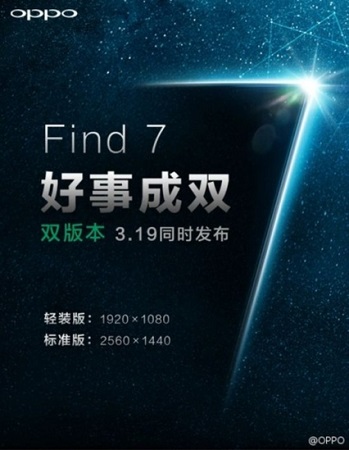 Oppo has officially confirmed that the upcoming Oppo Find 7 would be available in two variants depending on the display resolution. While the normal version would feature a full HD 1080p resolution, we can also expect a premium version flaunting resolution of 2560 x 1440 (Quad-HD). There would also be a slight change in the chipset with the normal version having the Snapdragon 800 processor whereas the premium version would be powered by the new Snapdragon 801 chipset.
It is highly likely that the massive 50 MP camera sensor would be fitted only into the premium version, if at all. The normal version may feature the earlier rumoured 13 MP camera. Given the specs listing, this is one exciting smartphone we should look forward in Q1 of 2014. We are just a few days away from the launch date of March 19.