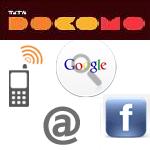 TATA DOCOMO, the GSM brand of Tata Teleservices Limited has proved it various times that why its tagline "Do the New" is apt. Since its entry into the Telecom Industry TATA DOCOMO launched various offers which were Industry's first and this time also the GSM Telecom Operator has come up with something unique for its consumers.
I bet, you know what is Pay Per Second but now TATA DOCOMO has come with kinda similar phrase "PAY PER SITE". TATA DOCOMO'S new value added service 'Pay Per Site'  is based on "Pay-for-what-you-use" internet browsing model.
Those who only browse 2 or 3 sites regularly can now be free from monthly rentals and packs. Pay per site offers 2 combination packs, for those only interested in single websites can pay Rs. 10 per site whereas those with multiple site browsing can also opt for a combo pack at Rs. 25 per month. Customers will have bundle of options within various categories of Social networking sites (Facebook, Twitter, LinkedIn, Orkut), mail options (Gmail, Yahoo, Rediff) and chat messengers (GTalk, Yahoo Messenger, Nimbuzz). Please note that there is a fair usage cap on all of these plans.
There are 2 different genres under which each service is categorized- Social Networking Site and Emailing and Instant Messaging. Each site under this genre is priced at Rs. 10/- bundled with 200 MB free data usage valid for 30 days, post which customers will be charged at 1p/kb. There are also 2 Combo options – SNS Combo Pack and Emailing Combo Pack and each Combo Pack is priced at Rs. 25 bundled with 500 MB free data usage post which the customers will be charged 1p/kb.
To activate the services, you can Dial *141# OR send an SMS with the keyword "MY SITE' to 141 and follow further instructions OR visit Tata DOCOMO Dive in zone on mobile. You can also activate Pay per Site service through Tata DOCOMO website by clicking on the Pay Per Site link.