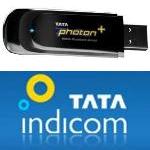 Tata Teleservices Limited (TTSL) has today announced the launch of industry first 'Call and Buy' service. A dedicated toll free number 1800 420 8282 will guide you on every aspect of the product from enquiry, current offers and purchase to home delivery.

If you are willing to buy a Photon Plus then you will have to make a call on the toll free number 1800 420 8282. Tata Teleservices representative will pay a visit for a free demonstration. You may buy the Photon Plus device from the representative on payment through cash or cheque and will not require to visit any retail shop.

Photon Plus is a Mobile wireless broadband service that offers speeds upto 20 times faster than any existing mobile wireless technology allowing customers to stay connected ubiquitously. It enables Photoners to access to e-mails, social networking, download and upload large files, photo sharing, etc on the fly.