With an intention to support the health conscious, mobile users, PUMA has announced the launch of PUMATRAC app for iPhone.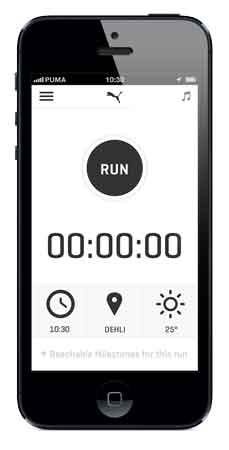 PUMA, which is a well-known name in the sports industry, has launched the PUMATRAC for the iPhone which is a running app and comes pre-loaded with the Tictrac technology. The app, with its user-friendly design, analyses how external conditions affect your running performance. This app could be used to motivate athletes to have more fun during workout.
The PUMATRAC app with its simple user interface requires little to no input of data to receive insights. It has all the essential features like distance, GPS, calories burned, integration with playlist and tracking performance over time. The app provides specific data based on the prevailing environmental factors and informs the best conditions for the workout.
The PUMATRAC app can be used to share your score, your compiled distances, and personal insights and weather/time condition bonuses. The app also has e-Store integration which can help users to see some of the latest running products PUMA has to offer and also shows the store nearest to them. The app is currently available on the Apple App Store and would be available on the Android platform early next year.
Speaking about the app, Rajiv Mehta, MD, PUMA India, said, "PUMATRAC seamlessly integrates data to deliver personalised, actionable insights. We work hard to inspire runners and PUMATRAC is very much a part of this strategy; it's clean, user-friendly and the first of its kind to provide such usable information and all in a unique PUMA way. With the boom of fitness and running in India, this app includes an element of fun and motivates all the runners to achieve various challenges. So get inspired to run and think about running differently!"