Apple Inc. is one company which is finding it tough to keep the details about its upcoming products under the wraps and in the series of leaks around next generation of iPad, we are today greeted with an image which is that of the iPad case designed for the iPad 5.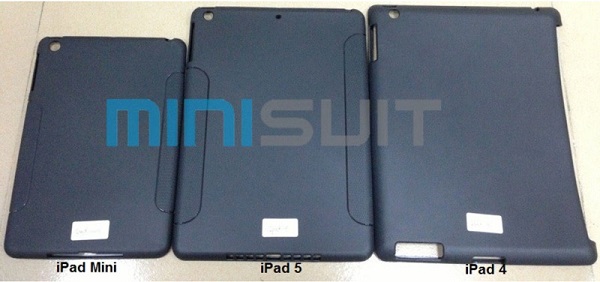 The iPad case has been made by MiniSuit which says that it got all the specifications and design from a reliable source and thus made the case according to the information available.
In the image, the case is compared to that of the iPad Mini and the iPad 4 and we can definitely see significant changes to the design of the iPad 5. The design seems to be inspired by the iPad Mini, which has been rumored for long now and the iPad 5 also seems to be much sleeker and narrower than the iPad 4. Also, the design of the case indicates that the iPad 5 will arrive with much thinner bezel on both sides of the display.
We can also see that the case has a hole at the back which feel is for the rear-facing microphone, while at the bottom the case has holes show a dual-speaker arrangement which is currently available on the iPad mini. According to the case maker, the iPad 5 will be launched in June this year.