With the rising importance for knowing the current location of trains, RailYatri.in has now launched the GPS train tracking platform – RailRadar GPS.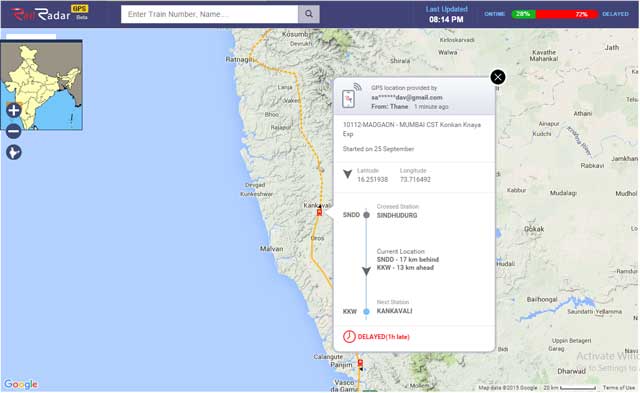 RailYatri.in has announced the launch of the RailRadar GPS, which is said to be the country's first GPS train tracking platform. The service can be used to track and display the real time movement of nation-wide trains on a Google map. This would also help the passenger to know the on-time/delay status. Users can track the train in real-time by visiting the RailRadar GPS portal.
RailRadar GPS uses the location generated by a passenger's smartphone and determines the train location by analysing the pattern of locations transmitted by the smartphone travellers sitting on the train. With hundreds of smartphones on each train nowadays, RailYatri's RailRadar GPS has been designed to scale up to track every train in the country on a 24×7 basis.
Speaking about the RailRadar GPS, Manish Rathi, CEO, RailYatri.in, said, "Train location is one of the most sought after information by train travellers and the smartphone technology now allows us to answer that with an accuracy and cost not possible a few years back. The crowd sourced model uses mathematical modelling to confirm the train and its location. The technology reduces human errors, while available 24×7 under all weather conditions, irrespective of fog or visibility issues. All it requires is 1 smartphone RailYatri traveller on each train."