Reliance Communications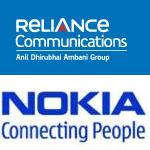 entered into a partnership to make available Ovi Life Tools services targeted at the rural and semi-urban segments for Reliance customers. Under this partnership Reliance will offer faster music downloads to Ovi Music Unlmited (OMU) devices including Nokia 5530, Nokia 5800, Nokia X6 16 GB, Nokia X6 8 GB and Nokia 5235. Reliance Communications will also offer special data packages for Nokia GPRS phones (other than OMU-enabled devices) and an exclusive offer on Reliance Netconnect Broadband + USB Datacards on the purchase of Nokia OMU enabled phones.
Reliance will offer Ovi Life Tools services in two versions, Subscription and Pay per Use. While the Subscription Service for education and entertainment services will be offered at Rs.30/Month and the agriculture service at Rs.60/Month. The Pay-per-Use will be priced at Rs.3/Request.
As part of this alliance, RCOM is also offering mobile data bundle of 1.2GB on Nokia GPRS enabled handsets (other than the OMU-enabled phones). In addition, RCOM is offering up to 1800 free on-net minutes bundled with Nokia 1800. These free voice minutes and mobile data bundles has a validity of six months.