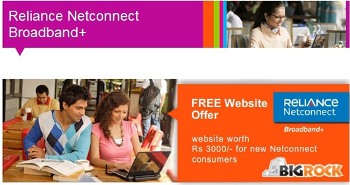 With a large of companies coming up in the website hosting and domain business, Reliance Com. has entered into league. They announced the launch of free website package for its Netconnect users. The package will include a domain name, website builder and 10 business email accounts on the domain name. With this people can now have their own website and attract newer customers even though they might not have the technical know-how or resources to create and host one.
The strategy might prove to be beneficial for Reliance as they are expanding their brand among various fields of Information and Technology. In the efforts to promote their internet services, they have come into a partnership with BigRock. BigRock is a website services provider in India and provides hosting and domain services for individuals and companies. BigRock will enable Reliance Netconnect users to establish and grow their online presence; build their own websites from scratch using a very intuitive- but powerful- feature rich, and user friendly website builder package.
The launch was announced by Mr. Prashant Gokarn of Reliance Communications who said, "This opportunity will significantly boost web presence for our Netconnect subscribers. We are targeting the SMEs, SEPs and entrepreneurs, as well as individuals who wish to stay connected & interact for personal or business needs. Our strategy is to focus on the integration of the two worlds. Consequently, we anticipate providing free website will increase the number of Indians owning the websites significantly."
According to Mr Tarun Davda Business Head of BigRock.com, "We are very happy to partner with Reliance Communications in its new venture, we look forward to assist Reliance users boast their web presence. At BigRock, we are passionate about providing world-class customer service. Using our quick & user-friendly website design options and reliable hosting services, Netconnect users will be able to reach customers around the world and compete on global scale."
Users have to register their email address while subscribing for the Netconnect service. This can also be done by calling the Reliance Netconnect customer care at 1800 3000 5555, or by registering at the Netconnect website www.reliancenetconnect.co.in. The users will be sent a coupon code on their registered email address and process for availing the offer will also be explained in the email. The users can redeem this coupon code and get the website package free of cost. The service is free for the first year of registration. After the first year, the customers will pay the prevailing fee to BigRock if they wish to continue the service.