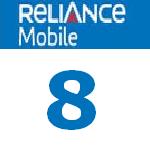 Reliance Mobile is rolling out its new mobile number series beginning with '8' in the Delhi-NCR circle. This makes Reliance Mobile India's first GSM operator to roll-out the new mobile number series starting with "8" in Delhi-NCR region.  For over 15 years, India has been using mobile numbers starting with '9xxxxxxxx'. Reliance is opening its new GSM mobile '8010xxxxxx' number series for its Delhi subscribers.
Reliance Communications is offering the numbers with "8" series on both its pre-paid and post-paid platforms across its GSM network.Reliance Mobile's new 8 series will be available across multi brand outlets in Delhi-NCR region including Reliance Mobile Stores and Reliance World stores.
Announcing the launch of the '8' series, Mr. C S Rana, Regional Head – Delhi, Haryana & Rajasthan said "Reliance has always taken pride in pioneering and meeting exceedingly high customer value expectations. Now,  we take pleasure in providing a completely new number series to customers.  New series numbers are now readily available at retail outlets including  Reliance Web Worlds & Reliance Mobile Stores. Customers have an option to  pick the numbers of their choice. Adding to our customers' mobile experience, we would shortly be announcing the mechanism for providing preferred numbers to our customers".